Celebrity Cruises represents modern luxury in cruising, through beautiful cruise ships and top-of-the-line cruise travel amenities. Let Celebrity take you on your next cruise to the top destinations in the world.
What sets Celebrity apart from other vacation choices today is the cruise line's passionate dedication to providing guests with a cruise experience that exceeds expectations. This has become the definition of Celebrity Cruises, and has set the worldwide standard for today's expression of what first made cruising famous — high quality, superior design, spacious accommodations, grand style, attentive service and exceptional cuisine.
Staterooms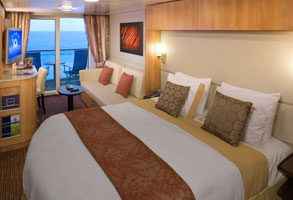 More than a room. An escape within an escape.
Our staterooms are a study in modern luxury, with forward-thinking design, beautiful craftsmanship, luxurious amenities, and innovative storage. Suite guests enjoy a completely indulgent experience with a full list of extras, including European-style butler service. AquaClass®, with its spa-inspired staterooms, provides you with unlimited access to the Persian Garden, and your own specialty restaurant, Blu. Concierge Class elevates your vacation experience with special perks, including early boarding, a pillow menu, and nightly hors d'oeuvres. Our Veranda staterooms offer breathtaking views and the perfect spot for a private meal or morning coffee. Ocean View and Inside staterooms are thoughtfully designed with ample space, tasteful amenities, and a sitting area. On Celebrity, your stateroom experience is sure to leave you relaxed and restored.
Restaurants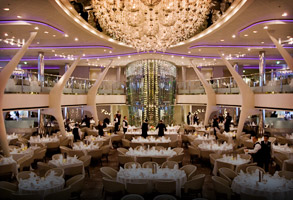 Modern luxury comes in such an amazing array of flavors
Dining with Celebrity Cruises is an experience beyond the obvious, a globally influenced blend of classic and contemporary menus created by a James Beard featured chef. It's always a perfect marriage of flavors and the artful presentation of cuisine.
There are many different kinds of dining experiences, including Main Dining, held in the main restaurant, where you can choose a set time every night, or you can be more flexible with Celebrity Select Dining. Casual Dining can be enjoyed in our Oceanview Café or Bistro on Five. And then there's Specialty Dining, where each restaurant offers a unique culinary journey.
Lounges & Bars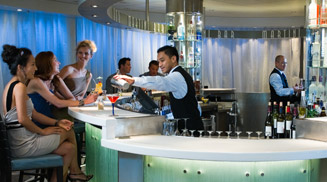 Raise a glass to an uncommon variety of choices
An essential part of a luxurious and relaxing vacation is finding the perfect spot to match your mood and occasion. With this philosophy in mind, we have designed each of our bars as a unique destination unto itself. The menus offer a diverse selection of classics and the latest trends. Some also reflect the regions we visit. To keep our menus fresh and current, we work with a variety of sources, including Mixologists from the brands we serve, and our creative and passionate beverage staff. Each bar has its own team of specialists, and they take pride in the unique features of their venue.
Spa & Fitness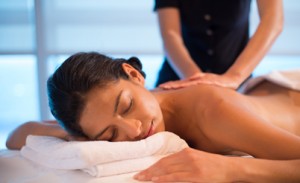 Introducing our new Canyon Ranch SpaClub
Canyon Ranch, one of the world's leading spa and wellness brands, has partnered with us to bring you the indulgent Canyon Ranch SpaClub® aboard ten of our state-of-the-art ships. Canyon Ranch pioneered the evolution of the wellness lifestyle and has been an industry leader for close to 35 years.
The Canyon Ranch SpaClub at Sea will offer exclusive services and treatments.
Casinos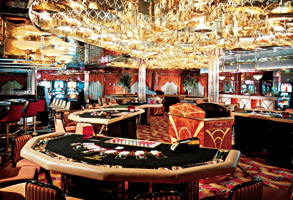 Ready to Play?
Light up the night with Lady Luck by your side in Celebrity's world-class casinos. With a sophisticated ambiance and captivating sights and sounds, our casinos offer exhilaration for experienced high rollers and those trying their luck for the first time.
Shopping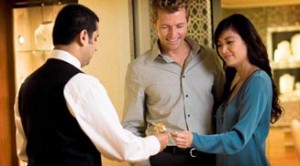 Expand your idea of a memory to something you can take home in a box
Aboard every ship, Celebrity's European-inspired piazza and elegant galleria hold riches of chic sophistication. Marble walkways lead you to modern boutiques and fine jewelry stores, where you'll discover prestigious watch brands, stunning fashions, exquisite gems, cosmetics, fragrances and more.
Entertainment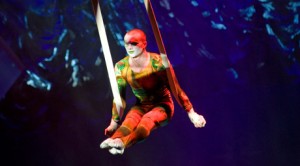 Let us entertain you morning, noon and night
When we said you would be entertained from sunup to sundown, we weren't kidding. We'll entertain you in the main theater with high energy, custom productions such as "Pulse", "Remix" and "Edge" along with classic tribute shows rivaling Broadway, West End and Vegas productions. You'll also experience innovative and award-winning European-style circus shows co-produced with international producer Poet Theatricals and unique British-style "Panto" shows created by UK production company, Qdos Entertainment.Also lighting up the main stage are guest entertainers, including aerialists, acrobats, comedians, singers, instrumentalists and magicians. We aim to give you the best entertainment experience where the everyday simply disappears.Check out our newest late-night comedy show, Sin City, aboard Celebrity ReflectionSM and Celebrity Solstice®.Celebrity celebrates Broadway theatre with live performances in the new 54 Below cabaret-style club aboard Celebrity Summit's Bermuda sailings.
For Kids & Teens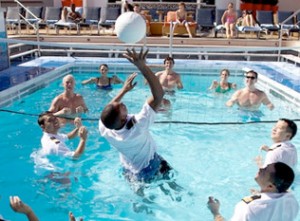 Endless options for family cruise fun
Our award-winning cruise experience is designed for all ages and interests. Most programs are geared to specific age groups and supervised by experienced youth staff members.
Toddler Time for kids under 3
Fun Factory for kids 3-11
X Club for teens
A variety of activities across the ship for all ages