Choose a Cruise Line
---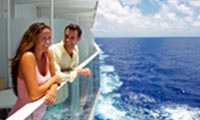 Whether you seek an adrenaline rush or total tranquility, our ships have it all. Try rock climbing, ice skating and surfing 200 feet above the waves. Melt away land-based stress with a spa massage, build a scrapbook of memories or simply relax poolside.
---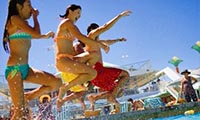 It's your vacation and you should have the freedom to enjoy it on your terms. Dress up or down. Sleep in or catch a sunrise from your own private balcony. Take in some never-before-seen entertainment at sea. Even eat somewhere different every day of the week.
---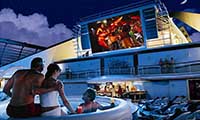 Compared to a land vacation, a cruise with Princess provides a great value for your vacation dollars. Your fare not only includes the comfortable accommodations of your well-appointed stateroom, but also many of our fresh dining options, dazzling entertainment and access to our health and wellness facilities.
---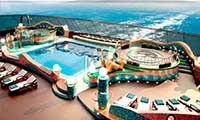 On the ships of MSC Cruises you will discover a perfect blend of European charm and modern elegance. Experience the genuine warmth and hospitality of our Italian officers. Savor a steamy cappuccino or a refreshing gelato with an ever-changing view. And taste the flavors of Italy offered by our signature La Cucina Italiana and New World Mediterranean cuisine.
---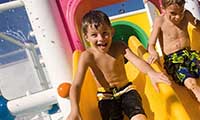 A "one size" vacation doesn't fit your family. Everyone discovers new favorites as they taste their way through dining options, experience activities at their own pace, and sample entertainment like a true connoisseur… before resting up in their stretch-out spacious stateroom to get back at it tomorrow.
---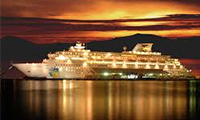 What sets Celebrity apart from other vacation choices today is the cruise line's passionate dedication to providing guests with a cruise experience that embodies modern luxury. Celebrity Cruises has set the worldwide standard for today's expression of what first made cruising famous — high quality, superior design, spacious accommodations, grand style, attentive service and exceptional cuisine.
---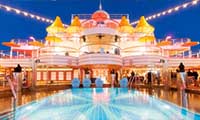 Spectacular sunsets, starry nights and warm embraces… all in cozy surroundings and with a host of exciting discoveries to be made.  A Costa cruise ship is a whole world at your fingertips: discover all the opportunities it offers for you to have fun, relax, make new friends or spend time with your family.
---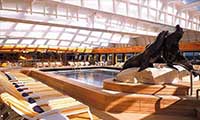 Holland America Line has been a recognized leader in cruising, taking our guests to exotic destinations around the world. If you are looking for some of the most spacious and comfortable ships at sea, award-winning service, five star dining, extensive activities and enrichment programs and compelling worldwide itineraries.
---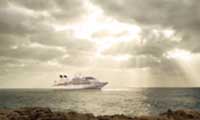 Cruising on a Seabourn ship is unlike any other form of travel. The experience is luxurious, yet relaxed — elegant, yet casual — sumptuous, yet understated. Our intimate ships visit the most desirable destinations worldwide, sailing to the heart of landmark cities, as well as to hidden gems where larger vessels cannot follow.