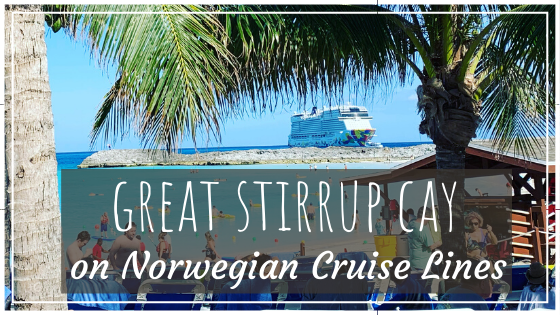 We are getting so close to sailing again! As all of the cruise lines continue to prepare their ships for returning to the sea, I wanted to share a post I wrote in 2019 when some of the Must Love Travel Planners had the opportunity to sail on Norwegian's brand new ship, the Norwegian Encore. It was incredible! And one of the highlights of our sailing was stopping at Norwegian's own private island in the Bahamas, Great Stirrup Cay.
I will be honest. I had fairly low expectations for this private island. I've been to a few other private islands of major cruise lines (Disney, Royal Caribbean), and they are both bigger than Norwegian's island. But WOW, I was completely blown away! Yes, it is small, but the beach is beautiful, the service is top-notch, the food was great, and some really spectacular excursions were available!
Beach
The beach was beautiful!! TONS of chairs, so you don't have to fight for one. And there will be a towel waiting for you on each chair, so you don't have to carry them off the ship. Bar service was excellent and fast, and there are plenty of water activities available for rent, such as floats and paddleboarding. If you want to splurge on a Cabana, those are available for an additional cost.
Lunch
There is a Main Grill and also a few additional food stations located throughout the beach area. The food is great, and there is plenty of it! We even found some light breakfast offerings (banana bread, etc.) available before the lunch was ready, which was perfect for those of us who got to the island early for an excursion.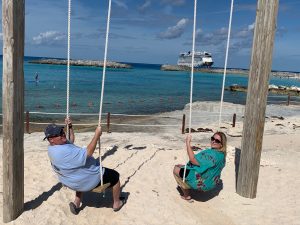 Excursions
There are some really spectacular excursions, but what impressed me the most was how organized they were. In our group of agents, we were able to sample quite a few excursions. I personally went parasailing and rented a wave runner (jetski), while other agents rented kayaks, swam with pigs (that's right, I said swam with pigs), and swam with the stingrays.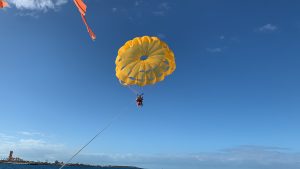 Overall, I was very impressed with this little slice of paradise. I could have easily spent another day there! Almost every Bahamas and Caribbean sailing on Norwegian makes a stop at Great Stirrup Cay, so be sure to ask your Must Love Travel Planner for more info on this island paradise.