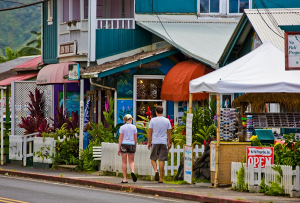 There are 5 regions to the island of Kauai. It is one of the oldest and northmost island in Hawaii. This island is known for tropical rainforest, wonderful cliffs and rivers with amazing waterfalls. If you want to have more of an adventurous vacation you will not want to miss the many outdoor activites Kauai has to offer. There are trails in Kokee State Park, kayaking on Wailua river and dive into the ocean for great snorkeling on Poipu Beach. The average temp year round is 69-84 degrees and the water temp is 71-81 degrees, so it is comfortable year round.
The North Shore Kauai, is rich with the beauty of all things natural. Mountains, beaches, cliffs will transport you into breathtaking views. Lumahai Beach for some will take you back to the famous film, "South Pacific" while Kee Beach is great for sunbathing. Ready for a hike or boat tour? You can venture to the Napali Coast which is a 17 mile stretch of coastline filled with cliffs, valleys and cascading waterfalls. If you want the best views take a helicopter or boat tour. The North shore is also famous for the upscale resort area of Princeville.
The East Side or the Coconut coast best suite its name with groves of coconut palms. This area too is great for hiking and a nice Kayak ride down the Wailua River. The beaches in this area are some of the best for families. There are two lava rock enclosed ocean pools that make it great for swimming and snorkeling. Opaekaa Falls is a 151 fool tall, 40 foot wide waterfall and makes for an incredible place to stop.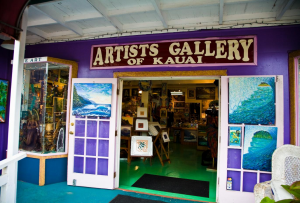 Lihue is where you will land at the Lihue airport when you venture to explore Kauai. It is the main commercial center of the island featuring culture and history. Kilohana, is a historic plantation estate and hosts a famous iconic luau. There is also a 100 acre sugar plantation founded in 1864. Tours are available by reservation Monday, Wednesday and Thursday and last 2 hours.
The South Shore is most known for its beaches around Poipu and Spouting Horn. For a day of history, visit Old Koloa Town just 20 mins from Lihue. You are welcomed into the town by a Tree Tunnel, a stretch of Maluhia Road lined with Eucalyptus trees. In 1835 this town opened its first sugar mill and opened the opportunity for many immigrants to make there way to Hawaii. You can check out the plantation buildings and discover great food and treats as you stroll through the town.
Finally, the West Side. Home of Kokee State Park, Waimea Canyon, and the valleys of the Napali Coast, the west side transports you to a whole different experience in Hawaii. This is where the locals don't find too many tourist. Two great little towns to explore are Waimea and Hanapepe. Waimea Bay is where Captain James Cook first landed in 1778. The town celebrates this historic event. Seven Miles south is Hanapepe, the island's art capital. There too are many shops and dining locations you won't want to miss.
Explore, Immerse and Let Hawaii Happen!