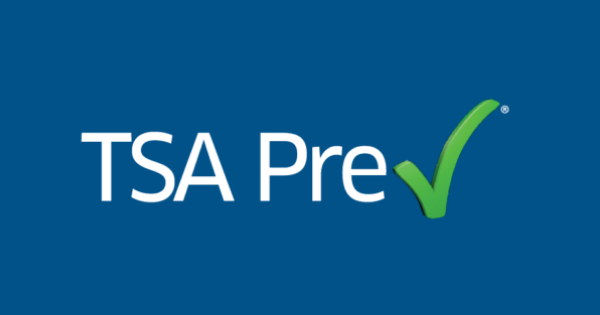 Do you want to make your travel experience easier? Apply for TSA Pre Check!
I've had TSA Pre Check for years, and I can't imagine flying without it. It eliminates the stress I used to feel going through airport security. And I'll do anything not to have to take my shoes off in public!
Our friends at The Compass share some TSA Pre Check Basics to help get you on your way to never having to take off your shoes again!
TSA Pre Check Basics
TSA Pre Check is a program that gives travelers leaving from the U.S. access to an expedited security screening program at the airport. U.S. citizens and lawful permanent U.S. residents can apply for the program and undergo a screening process to become a "trusted traveler."
Perks of TSA Pre Check
Anything to make your airport experience better is worth it, right? And probably one of the least enjoyable parts of air travel is the security process. TSA Pre Check pretty much eliminates that less-than-desirable part by giving trusted travelers these perks:
Expedited security screening – There's a shorter line for TSA Pre Check members. The average wait time is less than 5 minutes!
Less to do to prep for security – You don't need to take off your shoes, belts, or light jackets, and you can leave your laptop and liquids in your bag.
Share it with the fam – A parent or guardian with TSA Pre Check can bring family members ages 12 and under along with them in the expedited lanes.
The Pre Check Process
It's really not that bad – just three steps.
Travelers can apply online on TSA's Universal Enroll Pre Check page. The application has four sections, and it's mostly basic information to help TSA verify your identity and citizenship.
Next is to schedule the in-person appointment for a background check and fingerprinting within 45 days of completing the online application. The appointment can be made online or by walking into a TSA application center. This TSA web page lets you enter a zip code, city, or airport code to help you find the most convenient one for you.
And then, at the appointment, which TSA says only takes 10 minutes, applicants must bring the required documents and provide their fingerprints. There are some options to determine what type of documents are acceptable, but TSA has a helpful web page to help sort it all out. It can be as simple as just a valid driver's license and passport if the names on both documents match – that's it. Then the applicant pays a non-refundable fee of $85 that's valid for five years. That's $17 a year – less than a tank of gas nowadays!
After an applicant is approved as a trusted traveler with TSA, they'll get a Known Traveler Number (KTN) in the mail within two to three weeks. You can enter your KTNs for each traveler when booking your flights. So make sure to give your Travel Advisor your KTN!