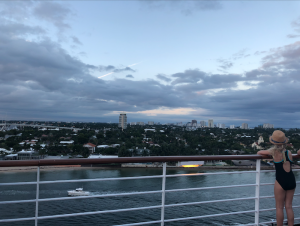 Prior to my very first cruise on the Celebrity Infinity I had no idea just how exhilaration the feeling of sailing away on a cruise ship truly is! I knew it was going to be exciting but in reality it was so much more! I has no idea that this moment was going to take my breath away the way it did!
On our embarkation day for our Must Love Travel cruise myself and my co-workers spent the day boarding the ship, unpacking our staterooms and catching up with each other! As the sun was just beginning to set the time was drawing near for our ship to sail away and our cruise officially began! Our whole Must Love Travel team made our way to the upper deck to watch as we pulled out of port and literally sailed off into the sunset!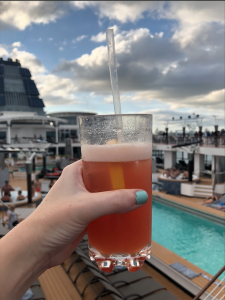 I will always remember the atmosphere that filled the air at this moment, it was such a joyful feeling! Everyone around was all smiles as everyones vacation was just beginning! There was this overwhelming feeling of excitement that filled the air. As our ship began to slowly move and make its way out of the port there was a great sense of adventure! I loved seeing the coastline filled with bystanders all cheering, waving and even ringing bells as they watched our ship sail away. Then the horns of the the ship filled the air as if to say bon voyage!
As I mentioned I knew this moment would be exciting but I had no idea just how thrilling it would be in the moment! The views of the beach and stretching coastline beside us and the open sea and setting sun in the distance were absolutely beautiful!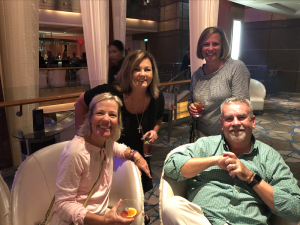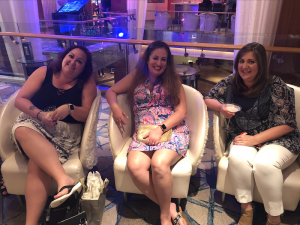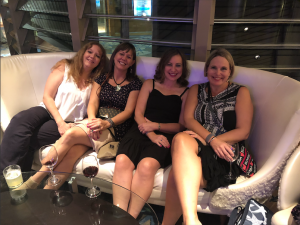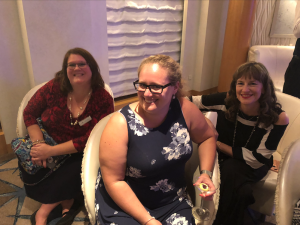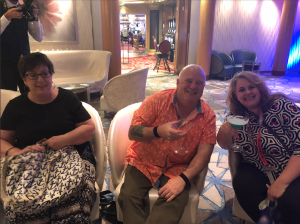 With our cruise officially underway our group made our way to one of the many onboard lounges to enjoy some cocktails and great conversation with all of our work friends. With our team working all over the country these times getting to all be together in person are always so special. During this time we got to say thank you to Our Chief Heart Officer, Bill Wingate who helped with the planning process with this wonderful cruise! Our team got together to give Bill a gift to show our appreciation.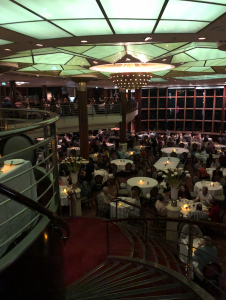 Soon it was time for our dinner seating and we headed into one of the main dining rooms on the ship. This restaurant was gorgeous with two main levels to it! Once we sat down and got our menus, we had a wide array of delicious options to choose from for appetizers, entrees and desserts! Everyone really enjoyed their meals throughout the entire cruise!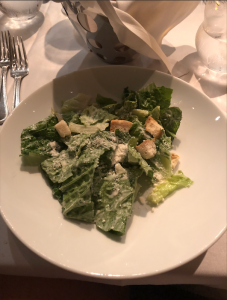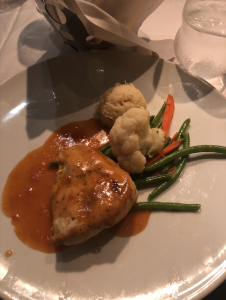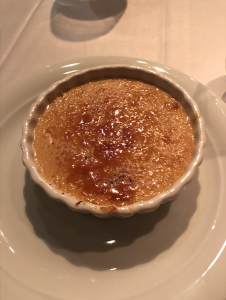 You can watch our adventures in our new YouTube video:
This evening was the perfect start to an amazing voyage! Contact your Must Love Travel Planner today to book your next cruise vacation! Our team is ready to use their knowledge and experience to help you plan the best vacation for you and your family!