Let's say you find yourself on the West Coast in San Francisco with a little extra free time. It happened to my husband and I recently…he was traveling for business and I was able to accompany him. Unexpectedly, we found ourselves with a free afternoon and decided to take the quick drive up to Napa Valley.
Personally, we much prefer the smaller wineries to the larger names. We feel the experience is more personalized and we enjoy the atmosphere more. There is certainly nothing wrong with Mondavi Winery (they have beautiful grounds and I highly suggest a visit) or Sterling or Stag's Leap etc. but the smaller wineries tend to cater more to you, be able to dedicate more time to your questions and overall, I guess I just find the depth of the wines we taste seem better. It's all up to personal preference though really.
Because this was last minute, we weren't able to make appointments for private tastings, but we had read about Michael Hill Winery and the terrific experience people had had, so we booked a tasting online. The form allowed you to specify your preferences if you had any, tell them if you had recently visited wine regions etc. I noted that one of our favorite wines right now was Sauvignon Blanc, that we loved full body reds and we were picky about our Chardonnays (we don't prefer the typical buttery flavor of Chardonnay).
Upon arrival we were greeted and immediately offered a glass of Sauvignon Blanc each, while the staff told us about the winery and what type of options they offered for the tastings. We chose to go with a Reserve Wine tasting which paired some food with their Reserve Wines. These are wines that are only available for purchase at the winery or through their wine club. The staff invited us to walk around the vines, showing us where they had marked some good vantage points for pictures and then invited us to take a seat out at the Adirondack chairs for a view of the valley while they prepared our tasting.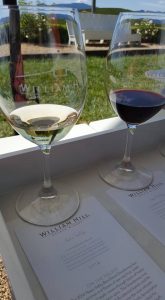 We couldn't have been happier with this choice. The staff checked on us frequently enough to be sure that we were well taken care of, but not so frequently as to be annoying. By spacing their appointments, the area was not crowded but we were able to chat with some other couples that were there.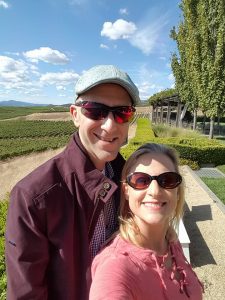 The wines were exquisite, with a depth of flavor that you don't always find. Knowing our feelings about Chardonnay, the staff chose one for us to try that was more acidic and preferred by Sauvignon Blanc drinkers, then we progressed into some reds. The tasting was complemented by dried tart cherries, salt and vinegar nuts and a goat's cheese. Yum!
I highly recommend checking out this winery if you're in the area. You can easily make an appointment online, the staff are knowledgeable and friendly, and you can't go wrong with their wine.
Keep an eye out for my St. Clair Brown post, we returned to one our favorites there!
B
logger, Traveler, Wife, Runner….I'm known as many different things.  But I'm here to be your Travel Professional.  Ever since I was a little girl I had an interest in travel. I would collect the postcards books that my grandparents brought back to me from their travels and I kept them in a special box that I loved to pull out and flip through. As I traveled with my family I started collecting postcards on my own and pictures, maps, and other mementos of my travels.
Believe it or not, I still have those postcards and every once in awhile I'll bring them out and flip through smiling at the memories they bring back. Although I might not collect postcards anymore I collect photos, stories and information on my travels. I love to soak up a destination, reveling in the local food life. I absolutely love sharing my travel stories, foodie moments and special encounters.