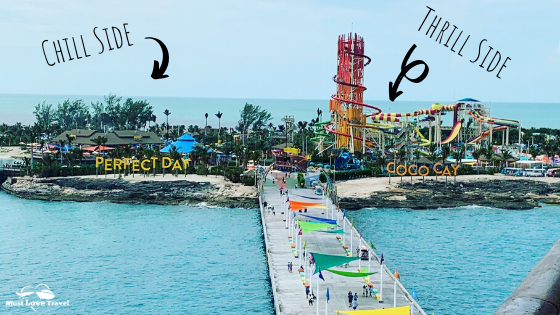 Royal Caribbean has recently re-opened their own Private Island called CocoCay in the Bahamas, and it is amazing! There is quite literally something for everyone. If you want to sit at the beach and relax, if you want to play in a party-pool, if you want to visit a water park…it's all there!
Your Royal Caribbean ship will dock on the island, and offers complimentary shuttle service from the ship to the island. If you choose to walk down the pier, you'll have some amazing photo opportunities. Even if you enjoy walking, I recommend taking the shuttle around the island, just so you can see everything there is to offer!
CocoCay is divided into two sections – "Chill Side" and "Thrill Side". The "Thrill Side" includes the super-popular Thrill Water Park, with lots of slides, water activities and a huge wave pool.
Thrill Water Park 
If you're after non-stop action and pulse-pounding excitement, nothing beats the record-breaking pools and slides at Thrill Waterpark. Fill your day with plenty of wild hairpin turns, bracing zero-gravity drops, big-time tide riding and more. No matter what your threshold for adrenaline, Thrill Waterpark delivers something for every level of daredevil.
Rest and Relaxation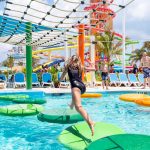 If you've had your fill of thrill, kick back and relax. The best part? You don't even need to leave Thrill Waterpark. Claim one of the complimentary beach chairs by the wave pool or reserve a cabana close to your favorite slide tower and recharge before your next adventure. The nearby Snack Shack is the perfect pit stop for a quick refuel.