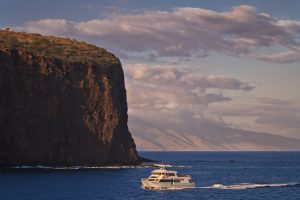 Lanai is just 9 short miles away from Maui, but don't let that fool you as Lanai has its own charm and personality and happens to be the smallest of the Hawaiian Islands. If you are one of those travelers that likes a little bit of being away from it all, here is where you want to be. There are no stoplights and only two hotels.
The accommodations are nothing short of spectacular. On the south side, you can stay at the Four Seasons Resort Lanai which overlooks Hulopoe Bay. This oceanside paradise is full of colorful reef fish and hosts protected species such as green sea turtles and spinner dolphins. Of course this is the perfect place for golfing at one of the two world-ranked courses. The second Hotel is the Hotel Lanai, Hawaii's Best Little Inn. As a historic landmark in Lanai City, it was best known as the hotel for the Dole Plantation Executives. All the rooms in this laid back hotel, feature original art by local artist Mike Carroll. It is small, with only 11 guest rooms, but very special for visitors wanting to step back in time.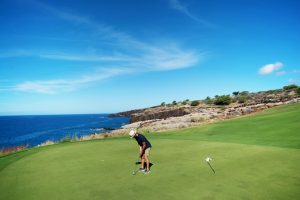 There are some great activities besides golfing visitors can do on Lanai. You can visit the Lanai Adventure Center near- by the Four Seasons Hotel where you can explore. Guided UTV tours are available as well as horseback riding. At the Lanai Ocean Sports you can depart from Manele Small Boat Harbor and snorkel, whale watch, watch the sunset and dive. This makes for a great activity day if you are going to even just spend the day at Lanai.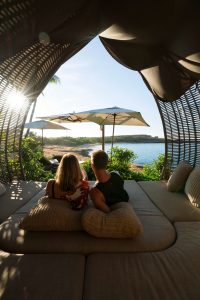 Beaches, and dining are not forgotten on this tiny island. You will find the local mom and pop shops as well as your luxury dining at the resorts. Polihua Beach is very secluded and off the beaten path on the North Shore. From this advantage point you can see Diamond Head on Oahu island. Hulopoe Bay is named on of America's best beaches. This is perfect for beach goers as you have a picnic area with grills and restrooms with showers.
You can plan your stay on Lanai or if you are staying on Maui head over on the Maui-Lanai Ferry which crosses over 5 times a day every day.