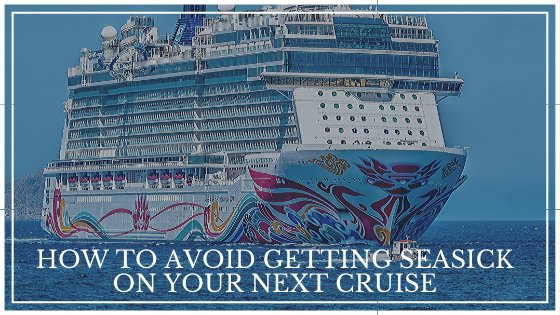 I'm going to immediately remind everyone that I am a travel agent and blogger, NOT a doctor. If you have any real concern, such as an underlying medical condition – you absolutely need to talk to your doctor before you take a cruise.
For anyone and everyone else….
Getting seasick is a very real, valid concern. My own wife got horribly seasick on her first cruise, and it took me 6 years to get her back on another cruise. I can honestly say that I did everything in my power to keep her from getting sick. As I give you my tips below, I'll also point out how we used these tips personally in planning our own Disney cruise. And guess what….she did NOT get sick at all!! She had a wonderful time, and she just sailed on her third cruise last week, also with no issues at all.
Bigger IS Better
Yes, a bigger ship is going to most likely be a newer ship, have more stabilizers, and you tend to feel the motion less. Smaller ships tend to rock more, and other than some luxury liners, they are going to be older ships with older technology. We chose to sail on the Disney Fantasy for her size.
Location, Location, Location!
Stateroom location is super important! You feel the motion of the ocean a lot less the closer you are to mid ship. Now, high deck or low deck….I've heard both are better/worse. Personally, I've felt the motion more on the lower decks. Choosing a stateroom that is mid-ship and about 3/4 up is about as perfect as you can get. We chose a stateroom that is completely smack-dab mid-ship, on Deck 9 (out of 13 decks), which is as central as you can possibly be.
Stateroom Balcony (aka Fresh Air)
The reason I suggest a balcony is not just because they tend to be on the higher decks or because they are more spacious (which they are), but because you have access to fresh air 24/7. This is HUGE if you are concerned about getting seasick and you want to be able to take a step out onto your private verandah, to breath in that refreshing sea air. We chose a Verandah stateroom.
Less Sea Days
I specifically chose an itinerary that has no more than 1 sea day in a row because sea days are definitely harder for folks with light stomachs, as there is constant motion. Even though I thought I wanted an Eastern Caribbean itinerary, Disney's all include 2 sea days in a row. So, we went with a Western Caribbean itinerary that has 2 sea days, but they are sandwiched between 3 full port days. For the most part, this gives some relief after just 1 day.
Our itinerary looked like this:
Day 1 – Port Canaveral
Day 2 – Sea Day
Day 3 – Cozumel, Mexico
Day 4 – Grand Cayman
Day 5 – Falmouth, Jamaica
Day 6 – Sea Day
Day 7 – Castaway Cay
Day 8 – Port Canaveral
Understand WHERE and WHEN you are sailing
Our first cruise that Michelle got so sick on was a Houston sailing, and it had 2 sea days at the end to get back into port. I had no idea that the Gulf of Mexico is notoriously rocky. I know this now, so I would never put Michelle on a sailing out of a Texas port; also, we sailed in January and ummmm January is winter…so yeah, getting in and out of Texas was not going to be smooth. Our recent Disney cruise was mid-May, out of Port Canaveral, Florida.
Be Prepared – get the good meds!
You'll find a ton of blog posts with all natural alternatives and herbal supplements to avoid getting sick….this is not that kind of post. My advice is….call your doctor and get the good meds!! Load up on dramamine, both regular and non-drowsy, and don't be afraid to take it. I honestly have no idea if I get seasick or not, because I pretty much have a steady stream of dramamine in my system the entire time. Plus I get the ear patch from my doctor. Plus I wear seabands. The whole shebang. Don't be a hero! If you are at all worried, there are meds out there to help!
Contact your Must Love Travel Planner TODAY to plan your next cruise vacation!