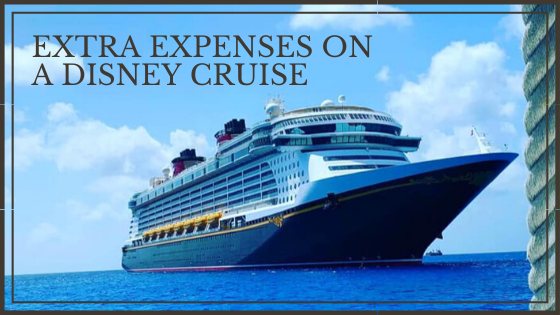 I often find myself saying some version of "it's easier to explain what you CAN'T do than what you can"…and for a Disney cruise, so much is included with your cruise fare, it is absolutely easier to tell you what is NOT included, so you can plan your spending money. If you'd like to see all that IS included in your cruise fare, check out Disney Cruise Line: All That's Included!
Keep in mind, Disney tends to be a lot more inclusive than other Family cruise lines. So these exclusions are specific to Disney ships. You'll find additional "extras" on other cruise lines.
Gratuities
You are expected to pay a certain amount in gratuities for your stateroom steward and dining room waitstaff. This is a set amount, and it is based on the number of guests and the number of nights. You do have the option to pre-pay your gratuities, or they will be automatically added to your stateroom account at the end of the voyage. Currently, Disney's standard gratuity is $13.50 per person, per night.
You will also be charged automatic gratuities for things like alcohol, room service and spa treatments. You do have the option to add additional gratuities if you feel they are due. Of course, if you don't order any alcohol, room service or visit the spa, you wouldn't see any of these charges.
Beer, Wine & Liquor
Speaking of alcohol….totally not included!! So plan for that. There are lots of onboard specials, such as "drink of the day", and beer and wine packages that are available for purchase. But alcoholic beverages are not included with your cruise fare, and Disney currently does not offer any official "Beverage Packages" that you'd find on other cruise lines.
Spa Treatments
Spa treatments and spa day passes will be an additional charge, which is completely standard among similar cruise lines.
Excursions/Port Adventures
Anything that you book for your time in the different Ports of Call will be an additional cost. You can prebook these experiences, or book them once you've boarded the ship. They will be charged to your stateroom account.
Popcorn/Candy
I know, it's so crazy, because soooo much food is included. But if you want to buy popcorn or candy at the movie theater or evening theater, you are going to have to pay for it!
Upscale Adult Dining
Brunch and Dinner at Palo & Remy, Disney's upscale Adult restaurants, will be an additional cost. Currently, brunch and dinner at Palo is $30 per person, and Remy is $75 for brunch, and $125 for dinner.
Shopping
All of the stores onboard any Disney ship is going to cost you real money. Disney actually doesn't have a ton of stores, compared to other cruise lines. You'll find a few Disney-style stores, a couple of upscale options on the larger ships, and that's about it!
Wifi
Although Disney does offer a very small amount of wifi for free if you download the app on Day 1, it's minimal. For the most part, you are going to pay a premium to have wifi on the ship. Now, keep in mind, that lots of people use cruising as an excuse to "unplug", and you'll also have lot of opportunity for free wifi at the different ports of call.
I'm sure there is something I've forgotten, but honestly, it sounds like a whole lot more than it is. My very first Disney cruise was a 5-night Western Caribbean cruise on the Disney Magic, and I spent a total of $125 for the whole week. (Don't ask me what I spent of my last cruise…ugh!)