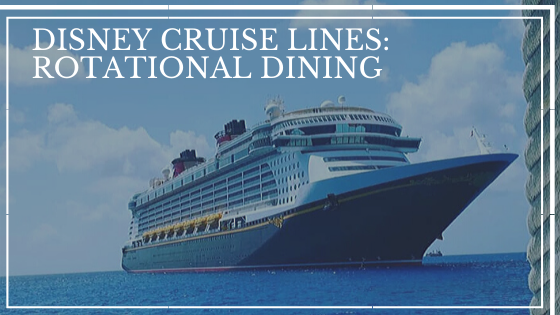 Disney Cruise Lines has some of the coolest, highly themed and FUN restaurants at sea. You don't need to make a reservation, as you will be "rotated" throughout the different dining rooms each night of your cruise for dinner.
But what really sets this experience apart is that your Dining Staff & Servers rotate with you each night! That means that your servers really get to know you and your family throughout your cruise. If you have any special dietary restrictions, or even simple likes and dislikes, your servers will make sure everything is perfect each night. All the little details are covered. For example, if you purchase a bottle of wine with dinner, but don't finish it….no need to worry, your bottle will magically show up wherever you are!
Rotational Dining is unique to Disney Cruise Lines, and guests have been enjoying this special service for years now. In fact, many guests talk about how dinner time is one of the best times of the day, because the restaurants are so unique and the servers so spectacular.
Talk to YOUR Must Love Travel Planner today for more information and to book your next Disney Cruise!