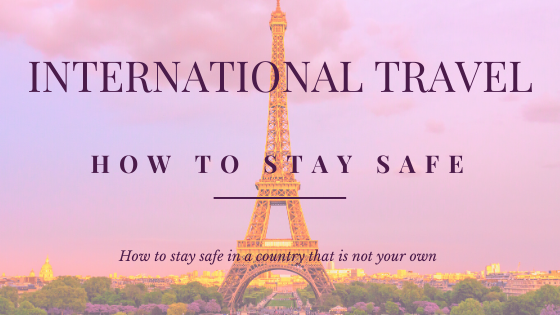 I know there are a lot of fears and worry around traveling right now. As I keep telling my clients (and myself!) this will end, there is a light at the end of the tunnel, and we all will begin to travel again very soon!
No matter where in the world you are going, here are some easy, standard tips for keeping safe when traveling internationally. Whether you are traveling to Europe, Costa Rica, Australia or Thailand, these tips will help everyone stay safe in a country that is not your own.
Getting There
Make a color copy of your passport or take a picture and email it to yourself. This will be a great backup if your passport is lost or stolen.
Arrive at your destination during daylight hours so you can check out the surroundings to make sure it's safe.
Full Service Hotel
Consider staying at a hotel that has staff working 24/7 rather than a home share.
Write down the exact address of where you're staying in case your phone dies or gets lost or stolen.
Request a room on a higher floor. There is generally a layer of security before you get to the elevators.
If you're riding the elevator with a stranger, let them press their floor number first. If it's the same as yours, go up another level just to be safe.
During your Trip
Check in with family or friends at home shortly after arriving. Share your itinerary with someone at home so folks know what you are doing.
Check in frequently throughout your trip.
Around Town
Wear clothes that blend in while out in public. You do not want to advertise that you're a tourist.
Only carry what you need, primarily your phone, ID and some cash.
Use a purse or pocket that can be worn in the front so that way you prevent pickpockets from reaching into a back pocket.
Carry your cash in more than one spot. This way, if your purse does get stolen, you still have some money on you.
When enjoying the nightlife, keep an eye on the person making your drink. Don't ever let your drink out of your sight. And stay sober if you are by yourself!
Don't tell strangers where you are staying. If someone asks, keep it vague. ("Down near the Boat Dock")
Excursions
Book group tours with certified tour operators. Thoroughly read the reviews before booking.
Ready to book your next Adventure? Contact your Must Love Travel Planner today!