Today I am sharing with you as I am sailing down the Rhine River in Germany! We are on the 5th day of our adventure aboard the Viking Ingiv. We have had a fabulous time visiting the Black Forest, Colmar, Heidelberg and today heading toward Kolblenz. This is bar far the most beautiful part of the journey! I often see the debate – do we start in Basel or Amsterdam – I would definitely say Basel. Save the best for the end of the trip!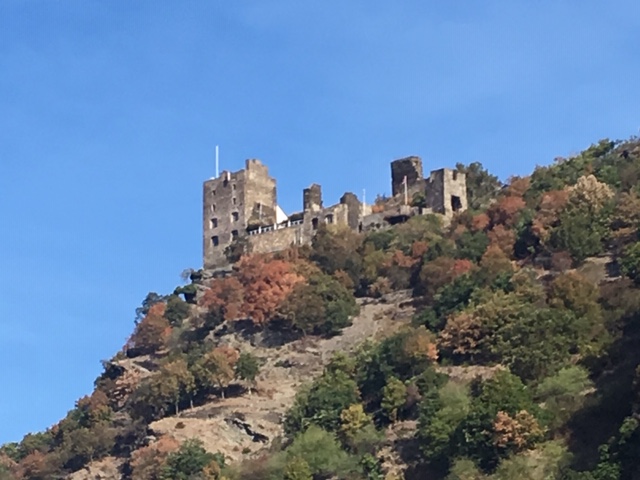 Passing by Castles, beautiful homes, WWII train tressels designed to look like castles ( false facade) so that the opposition would not notice where the Germans were hiding. The river is unusually low, however, our Captian grew up on the river and assured us we would maneuver upstream just fine! Now our cruise director is sharing a fairytale of the 7 virgins who remain the rock until a strong handsome man comes to rescue them. The sharing of information is something I have enjoyed so much. The history and stories have made it so interesting.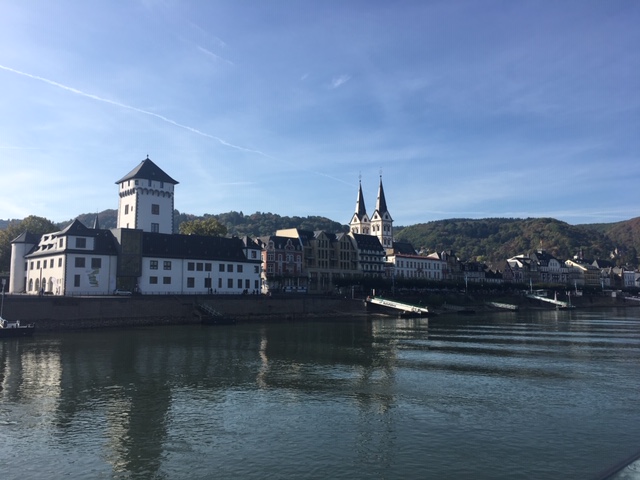 Sailing on a river cruise is much different than an ocean cruise as you can imagine. The advertising we see on TV doesn't really do it justice as the intimate nature of the cruise has so many wonderful benefits. First, the size is around 160 guests who very quickly get to know each other and begin sharing this journey together. Sharing in meals, tours and fun times in the lounge! Unlike other cruises that are so large, this cruise experience allows guests to share common areas as see the same guests more often. If you wanted to be alone – I am not sure this is the type of cruise you would like as everyone here at least is sharing with one another.
There are scheduled tours that are included and many that you can choose from also for an additional cost. I have found that the included tours have been just perfect for the region and the guides are very good. We added one additional tour which was the World War II tour in Colmar which was superb! Each evening before dinner we are briefed in the lounge of the next days activities with an explanation, given the menu and activities for the evening. It reminds me of a land tour but with a ship as your accommodation.
Dining has been very nice. There is one seating for dinner and the chef creates a different meal for each night as well as some staples. If you are a very picky eater you may not find it so appealing and have hamburger or steak every day! Two of the ladies at our table are picky eaters but they have managed to stay sufficiently nourished! With one seating each evening, you can sit anywhere, however, you tend to sit with the people you have met and stick with your wait staff. Ours has been excellent! Many have served on the larger ships and really enjoy sailing on the river.
The staterooms are very nice, with a little smaller bathroom, but sufficient enough for what you might need. The beds are very comfortable and I would highly recommend having the verandah as the rooms without are very dark and not as appealing. Having the verandah gives great views from your bed – and sitting outside with a cup of coffee and fresh air is great.
The common areas include the library, sun deck, lounge, dining room, and a few other deck spaces. It never feels crowded which is not what you might expect being on a smaller ship. As I said we are outside now and they have served us hot chocolate ( and you can add some spirits if so inclined), the heaters are on, although it is nearing 70 today, and they provide blankets if needed. The view has been amazing as the cruise director shares the history of each of the castles we pass.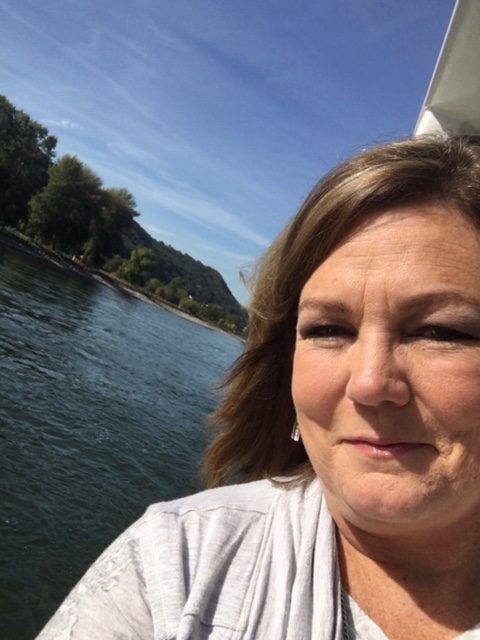 Should you go on a River Cruise? I would say it is a definitely a bucket list item as you approach retirement or are in retirement. The schedule and tours are designed for the active mature adults. Early risers and people that like to head to bed before 11 are best suited for the schedule.
As we rounded our last corner before docking – they played, " What a Wonderful World", which was a perfect end to our Rhine Castle briefing!