Every year people leave their vacation days on the books and have a million excuses why they can't take time away. No time, kids schedules, not in the budget and on and on. Are you one of them? The people that have these excuses? I hope not but, if you are, I want to give you some reasons why you should think twice before letting those well deserved days pass you by!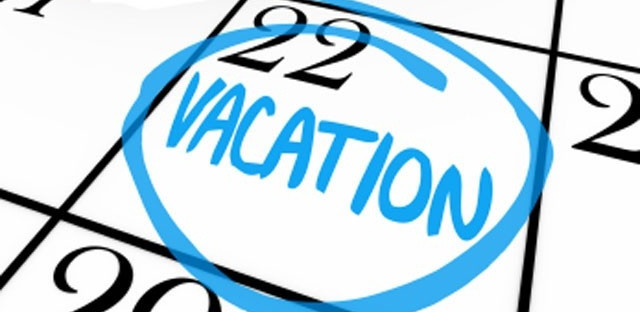 You need time to rejuvenate! You work hard every day at your jobs, at home, volunteering and everything in between. Body and soul need time to rest. Shut off the distractions and noise of your surroundings.
You need to explore the world! It is healthy to see the world and experience different cultures and meet new people. In our everyday bubble we can close ourselves in and forget that there is a big world out there and unique experiences can enrich our lives.
You need time to reconnect with your loved ones. We are busy and there can be days that go by without taking the time to have fun together, dine together and just talk to one another and enjoy each other's company. Vacations have a way of allowing us to have that time.
You earned it! You have earned whatever amount of vacation time you have received. Take it! There will always be something pressing that requires your attention, but nothing can replace the time you have to just sit back and get away from it all.
Recently, my husband and I finally took some time away. It had been close to 10 years since the two of us were able to travel together. Yes, we both have been places on our own or with friends, but not together. We always make sure we take one family vacation a year so we can all be together, but find it harder to just have the two of us travel. Our jobs and our lives are demanding. You will find as the children get older, they will need you more. My mom always told me that, and it is so true! So we bit the bullet and scheduled a short getaway. I had the opportunity to visit a new ship that was coming into commission and was allowed to bring a "plus one". You go it, I told my husband this time he was going to be my plus one! It was only 2 nights, but it was just what the doctor ordered. We both realized that there really is a lot to talk about and we had missed having fun together and relaxing. Also, the world keeps going and was just fine when we returned. No one burned the house down!
It is not always easy to budget and plan for time away but you need to do it! Whether it be the family vacation or time away with your plus one, it is important. Make the planning by contacting your Travel Planner. They can help with the details and that will take a load off your plate and ensure the details are taken care of so when you are ready to head out you will be ready to enjoy!