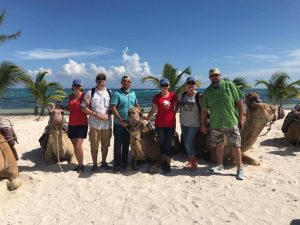 Let's go on a vacation together! Sounds great when you are all sitting around dreaming of nice sandy beaches, or the romance of Europe, but what happens when you start diving into the planning and organizing, second thoughts? I hope not! Traveling with family and friends can be just as much fun as it sounds like from the get go. The key is to go into it with realistic expectations. Traveling alone can eliminate some of the tension maybe, but traveling with a group can add great memories and perspective to the trip.
When you are dreaming about the trip with your friends or family, start off with some key "need to know" items.
Time of year and Length of stay. It is important before you talk to your travel planner to have your group decide on 3 dates that will work for everyone. Decide how long you can be gone and be assured everyone can get off work for that time frame. If you are just traveling as couples and leaving the children with babysitters, check to make sure the babysitters are available those dates as well.
Budget: Talk about what everyone is willing to spend for the trip. Consider, location, airfare, tours or excursions and misc. Costs. If you need help with a budget range you can discuss this with your travel planner.
Location: Have an idea of where you would like to go or even a set of choices. This way your planner can give you direction on resorts, cruises or activities that would best fit your group.
Discuss expectations on the trip: Take time to layout the "ground rules" so to speak. Do you plan on doing everything together? Have just dinners together or excursions? Do some want to do excursions while others want to just relax? It is always best to have a variety of together time and alone time so that everyone can be on vacation. We all vacation differently and with busy lives and vacation expectations can vary. Your travel planner can help plan a variety of schedules. The worst thing to hear is, "where do you want to eat?" "I don't know where do you want to eat?" Have a general plan.
Be flexible. Best laid plans may encounter some bumps. Be willing to talk through it and come to a quick consensus.
Friends and Family can travel together just about anywhere in the world! There are great locations near to home and even abroad that will give you experiences of a lifetime. Lean on your travel planner for the best ideas and the voice of organization when planning these types of trips. They have navigated through all aspects and will be the neutral voice throughout the entire process.