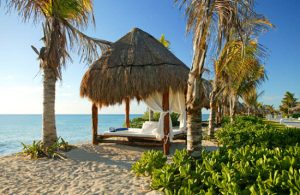 The ocean is quietly rumbling toward the shore as the sun rises over the Gulf of Mexico. The birds are talking their language to one another as they show off their bright colorful coats. The workers are quietly getting the pool area and all the gardens with precise detail. Perfection! Is there such a place? Yes! A true romantic getaway!
This week I have been staying at the El Dorado Casitas Royale in Mexico. Our room, the Infinity Pool Swim up suite the perfect indulgence for a quiet time away from the everyday life. Staying in this section of the resort your room is in a U shaped section that has its own swim up pool and bar. This section also hosts a small cafe for sandwiches and various shakes. Your room has its own pool with access to the lazy river that will take you to the main pool and bar and not to mention just short steps away from the beach where you can relax in a cabana or beach lounger. You Beach/Pool Butler will be attending to whatever you need.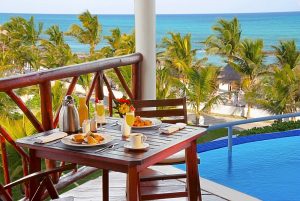 The Karisma resorts are award winning Gourmet Inclusive resorts. From excellent gourmet food, premium drinks, activities and especially the personalized service you can expect when staying at any of their resorts. Fresh vegetable and spices are grown in their own 70,000 square foot greenhouse located at the El Dorado Royale. There is a variety of 15 dining locations and 24 room service so you are sure to never go hungry. Two of our favorites were Kampai and D'Italia. They also feature Fuentes which is a culinary theater. Activities and entertainment are also available if you want to mix and mingle about.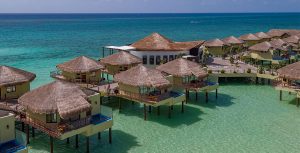 So here is the question……You want to go on a romantic getaway, but how do you choose? There are so many different resorts and destinations that it does make it difficult to choose. I look at the brand first. What do the brands offer? Are there hidden fees? What level of service do you receive? You typically have consistency throughout a brand. Like Disney Destinations, something we are all familiar with, you can see that whether you go to Disneyland or Walt Disney World you will have some consistency in the level of service and what the brand has to offer. There may be some differences just because of location, but overall they are similar. The same is for the various all inclusive or in Karisma's case, gourmet inclusive brands. You will see similarities in all Sandals, Excellence Resorts, Palace Resorts, Secrets, and so on. Also, look for adult only resorts for romantic getaways. When planning romance – adult only is the way to go!
Budget is usually pretty high on the list when picking out a resort and destination. Be willing to pay a little more to receive more. You can save on such things as room category or go during low season such as Oct., Nov. and early Dec. Nothing can be worse than spending money on something and the experience doesn't match up. Plan ahead! There is a time and place for last minute getaways, but when you are planning your honeymoon, anniversary or just that special getaway plan early! This will allow you to deposit your trip and pay a little bit along the way. Planning ahead allows you to stretch the budget a bit to get what you want. Destinations such as Mexico, Punta Cana and Jamaica are usually the most cost effective when looking at airfare and resort packages.
Consider going with a group. You may receive a discount when traveling with a group. Talk it up with your friends or family! It takes 5 – 10 rooms to create a typical group. You can check with your travel planner about those possibilities. Groups make it fun and yet you still have alone time .
When you are away, you will know what it means to relax and enjoy! All- Inclusive is a no worries vacation. Don't just search the internet though. Work with a travel professional so you will be sure to get the perfect resort and destination. They are there to guide you, answer questions and be your advocate.
If you haven't experienced an "adult" time away you need to! Destination Weddings, Honeymoons, Anniversary or just because ….you choose the reason and let us help make it happen!