When you are looking for the ultimate Caribbean getaway, look no further than a Sandals Resort!  It is an authentic Caribbean experience.  There are no hidden fees at a Sandals Resort.  When they say all-inclusive that is exactly what they mean.  Let me go over some of the things you can experience at a Sandals Resort.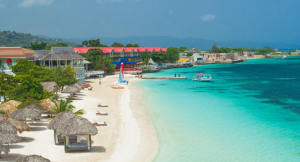 All activities are included! Sandals has the largest private fleet of boats in the Caribbean which can take you on many boating adventures.  Certified divers can dive for free everyday. Also enjoy snorkeling, fishing or paddle boarding.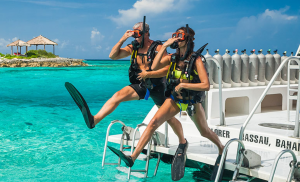 There are many opportunities for fun on the land.  Sandals has wonderful fitness centers, tennis facilities and for the golf lover there is unlimited golf included.  There are also private off shore island excursions at no extra cost where you can relax or play in a beautiful paradise retreat. If you are looking for a destination wedding look no further.  Sandals has what you are looking for in a beautiful romantic wedding.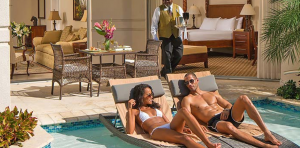 Sandals boosts 16 restaurants per resort!  You can dine wherever and whenever you want at no extra cost.  Unlike other resorts there are no seating times.  You can eat whenever you wish and also all drinks are included 24-7.
So if you are looking for a relaxing Island vacation consider Sandals Resorts for you next getaway.  Contact your Must Love Travel Agent today for a quote and to find out more about the incredible value you receive by staying at a Sandals Resort!